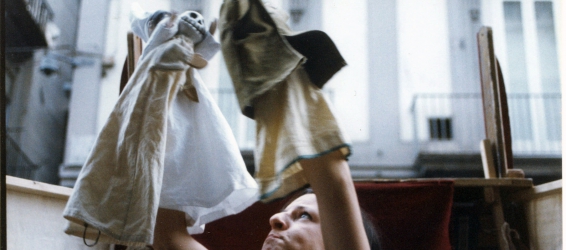 Biography
Irene Vecchia starts puppetry and her artistic journey on 2000 when she met Pulcinella by neapolitan Guarattelle's maestros. She learned the sense and the deep roots of Pulcinella puppet tradition, and continues her theatre's acting education and training.
She carves her puppets and build her booths.
Gloving Pulcinella she performed her shows in the streets and need social contexts of Napoli, and at international theatre festivals.
On October 2010 she gradueted in Scenography and Props at Fine Art Accademy in Napoli.
On 2013 has born"A Chromosomal case", wrote and directed with Gyula Molnàr, a solo for objects' theatre.
On 2016 she collaborate as shadow player with Teatro Stabile di Napoli Mercadante, for the production of Donna Lionora a trilogy from "Il resto di niente"
Prizes & recognitions:
− 1° place for new productions at Cantiere2012, at Incanti- Rassegna Internazionale di Teatro di Figura, Grimmland. Märchenhaft. Da favola! with Goethe-Institut- Torino
− Honorary member of Punch and Judy Fellowship since 2013
− Prize Benedetto Ravasio XVIII° edition 2015 – Bergamo
Festivals
MARIONETAS NA CIDADE XX - 2017, Alcobaça (P)
FESTIVAL DECOUVERTES IMAGES ET MARIONNETTES 2017, Tournai (B)
FESTIVAL MONDIAL DES THEATRES DE MARIONNETTES 2017, Charleville-Mèzieres (F)
IL CASTELLO INCANTATO 2017, Locarno (CH)
INFANZIA E CITTÀ IV, Teatri di Pistoia (I)
BORGHI E BURATTINI 2016, Bergamo (I)
LALKA NA SCENIE 2016, Warsaw (PL)
in produzione con il TEATRO STABILE DELLA CITTÀ DI NAPOLI Gen/Feb 2016 (I)
IMPERTINENTE FESTIVAL FIGURE ANIMATE 2015, Parma (I)
INCANTI FESTIVAL 2015, Torino (I)
XVIII PREMIO NAZIONALE BENEDETTO RAVASIO 13.09.2015, Bergamo (I)
GIFFONI FILM FESTIVAL 2015, Giffoni (I)
POSITANO TEATRO FESTIVAL - XII EDIZIONE 2015, Positano (I)
INTERNATIONALES FIGURENTHEATERFESTIVAL BLICKFANG 2015 , Altmorschen (D)
INTERNATIONALE PUPPEN THEATER TAGE FESTIVAL 2014, Mistelbach (A)
ENCONTRO INTERNACIONAL DE MARIONETAS DE LUVA 2014, Montemor-o-Novo (P)
FIGURENTHEATERFESTIVAL 2014, Wels (A)
ARRIVANO DAL MARE! 2013 Gambettola (I)
MoMoTI FESTIVAL 2013 Cagliari (I)
SKIPTON PUPPET FESTIVAL 2013 Skipton (UK)
ANDERLE RADVAN 2013 Banska Bystrica (SK)
PUF LUTKARNICA FESTIVAL 2013 Istria (SLO)
LUTKOVNO GLEDALIŠČE 2013 Ljubljana(SLO)
BURATTINARTE 2013 (I)
1° PREMIO : CANTIERE _ FESTIVAL INCANTI 2012, Torino (I)
THE BIG GRIN 2012 Mr. Punch's 350birthday London/Lincoln/Glasgow (UK)
HISTERIA 2012 Istria (SLO)
BLICKWECHSEL 2011, Magdeburg (D)
IMMAGINI DALL'INTERNO 2011 Pinerolo (I)
PARQUE DE LAS MARIONETTAS 2010, Zaragoza (E)
EL RAI barcellona 2010, Barcellona (E)
UNDP ART GOLD LEBANON PROGRAM 2009 Beirut Southern Suburbs (LEB)
TITIRIMUNDI 2009 Castilla y Leon (E)
BIME 2009 Evora (P)
ANDERLE RADVAN 2009 Banska Bystrica (SK)
IMMAGINI DALL'INTERNO 2008, 2011 Pinerolo (I)
ARLECCHINO DOMANI 2008 Paolo Grassi, Milano (I)
PUNTA CORSARA 2008 Napoli (I)
EMOZIONI 2008, 2007 Napoli (I)
PUPPET-A-PLENTY 2007, Birmingham (UK)
B.A.B. FESTIVAL 2009, 2008, 2007, 2006, 2005, 2004, Benevento (I)
MERCANTIA 2007, 2004, 2003, 2002 Certaldo (I)
SZIGET FESTIVAL 2003, Budapest (H)
LA MACCHINA DEI SOGNI 2003, Palermo (I)
LA SCUOLA DI PULCINELLA 2003, 2002, 2001 Napoli e Benevento (I)
PUF 2002 Koper + FESTIVAL LUTKE 2002 Ljubljana (SLO)